Monthly Calendar-Report for October 2014
21J westbound on the controlled-siding.

(Photo by Bobbalew with Phil Faudi.)
—One of the best shots I've ever snagged!
At least I think so.
The October 2014 entry of
my own
calendar is a westbound trailer-train on the controlled-siding into McFarlands Curve, railroad-east of Altoona.
Three tracks here are all that's left of Pennsy's fabled four-track "Broad-Way" across PA.
And the grade is wide enough for
four
tracks.
And Pennsy's premier "Broadway-Limited" passenger train wasn't named after Broadway in Manhattan.
It was named after Pennsy's "Broad-Way."
The tracks, left-to-right, are Two, One, and the "controlled-siding;" "controlled" because it's signaled.
Westbounds hardly ever use the controlled-siding. I have pictures of eastbounds on the controlled-siding.
The railroad across PA is mostly just two tracks. For Altoona and Allegheny Mountain it widens to three.
In fact, just west of Allegheny-summit there is a section of four tracks.
Look down at it from a highway overpass, and you see
five
tracks.
But that fifth track is a storage-track. Heavy coal-drags get stored on it before being slugged over the summit.
Apparently Track Two here was
closed for maintenance.
So the dispatcher shifted this westbound over to the controlled-siding.
And here it came,
me with my strong telephoto, not fully maxxed, but fairly strong.
A westbound on Two would have been okay,
but not as good as the controlled-siding.
My friend Phil Faudi ("FOW-dee;" as in "wow") was with me, the railfan-extraordinaire from the Altoona area who leads me around.
I had been wanting to try this shot for some time. I've done it before, but not with telephoto.
The fact the train was on the controlled-siding is
EXTREMELY
lucky.
This shot was also the best I could do for fall-foliage; the trees had already turned.
A REAL hot-rod.

(Photo by Scott Williamson.)
—To me this is a REAL hotrod,
what hotrods usually were.
The October 2014 entry of my
Oxman Hotrod Calendar
is a '32 Ford roadster with a Buick "nail-valve" engine.
"Nail-valve" because the valves are
kinda small.
"Nail-valve" in cross-section.
The valves are
vertical
in a pent-roof combustion-chamber, which aims the exhaust
the wrong way.
The exhaust had to twist-and-turn very-which-way to attain the outside exhaust-headers.
Which restricts engine-breathing.
But hotrodders weren't fussy.
The idea was to crank
much more
engine into that humble Ford body than what was there originally.
If you could get a Buick "nail-valve" engine fairly cheap, that was
way more
than what was in there originally.
Buick eventually redesigned its V8 engine to be more like the typical overhead-valve V8.
The "nail-valve" was Buick's first V8. Prior to the 1953 model-year Buick had done overhead-valve inline eights.
A "nail-valve" might be less costly to manufacture.
So in the '50s, hotrodders were dropping "nail-valve" Buick motors into their hotrods. And the new Cadillac and Oldsmobile overhead-valve V8s.
"Nail-valves" were extravagant torque-generators.
That ended with Chevrolet's SmallBlock of 1955. The SmallBlock was a better V8, plus they were cheap and plentifully available.
"Nail-valves" were built through the 1966 model-year, out to 425 cubic-inches.
And this nail-valve is a 425. Which leads me to believe this hotrod was built with an earlier nail-valve. Nail-valves were introduced at 322 cubic-inches.
That earlier nail-valve
wore out,
yet the car's owner had enough class to replace it with another nail-valve instead of a Chevy SmallBlock.
A '60s engine in a '50s hotrod doesn't sound plausible.
Stacker approaches Conway Yard near Big Beaver, PA.

(Photo by Jermaine Ashby.)
—This is the best photograph
photographer Ashby has ever had in this calendar.
And it's his third.
The October 2014 entry of my
Norfolk Southern Employees' Photography-Contest calendar
is a stacker negotiating a cut toward
Conway yard
near Pittsburgh.
Ashby's prior two photos were both shot in
darkness.
They looked okay, but not very dramatic.
They were more displays of technical prowess: the ability to get pictures in the dark.
Which usually involves
time-exposure,
except the trains were
standing.
One picture had a darkened lump off to the side. It was an old E-unit stored for restoration.
But for the captioning I would have never known. That lump was also somewhat distracting.
So Ashby does a photograph in daylight, although it appears cloudy.
I guess he'd been through this cut on trains.
The picture was shot from an overpass high above the tracks.
I've been attracted to overpasses myself.
Many of the photos in my own calendar are from overpasses.
Conway is a major yard near Pittsburgh. It was built by Pennsy in 1905. But later it was enlarged. Just about everything eastbound on Norfolk Southern's Pittsburgh-line (to Altoona) goes through Conway. Conway is
HUGE;
built to handle a flood of traffic.
This location is not one I'm familiar with. What I know is Allegheny Crossing, Pennsy's old crossing of Allegheny Ridge. Railroad operations there are
very dramatic; ASSAULTING THE HEAVENS
climbing, and
holding back a train
descending.
Allegheny Crossing I know
extremely
well; I've been there many times.
Allegheny Crossing is 250 miles away, yet I know it better than local railroads — which include CSX's main across New York state, the old New York Central.
"Norfolk Southern milepost 258.8, Track One, no defects" transmits a defect-detector on the railroad-radio. I know
precisely
where 258.8 is. It's in the little town of Portage.
Yet Ashby has snagged an
exceptional
photograph, one I'd be proud of myself.
It gives me hope Ashby has "the eye." His two earlier photographs were not that inspiring.
I feel like the only "eye" I've got is to pore through the 89 bazilyun photos I shot, and pick out the good ones.
Although a photographer-friend told me that's what a photographer's "eye" is, in which case I
shaddup-and-shoot
— and hope I snag some good ones.
So far only one photograph I planned was successful, others with similar input bombed.
Many of my pot-shots are
extraordinary.
A screaming-chicken (1974 Trans-Am).

(Photo by Peter Harholdt©.)
—The October 2014 entry in my
Motorbooks Musclecar calendar
is a 1974 Pontiac Trans-Am.
"Screaming chicken" because of that decal on the hood of the car. All Trans-Ams had that.
The "screaming-chicken."

(Photo by Peter Harholdt©.)
It's not the 1970 Trans-Am, which I think is
one of the best-looking cars of all time.
A 1970 Firebird Trans-Am.

(Photo by Peter Harholdt©.)
But it's based on the 1970 body with updates.
I just did a long
blog
on Pontiacs. Prior to the coming of Bunkie Knudson ("nude-sin") Pontiacs were turkeys, a "GrandPop's car."
Knudson was brought in to spice up Pontiac, make it appealing to the youth market.
He succeeded.
By 1959 Pontiac was a performance-car and the 1961 Pontiac "Bubble-Top" is one of the best-looking cars
of all time
.
A 1961 Pontiac "Bubble-Top" Catalina.

(Photo by Richard Lentinello.)
Pontiac was GM's performance-car until its demise with the GM bailout.
Witness the Pontiac G-T-O, which made musclecar performance affordable. It could be said the Chrysler 300s were the first musclecar, but they were beyond the price-range of the average buyer.
Even the G-T-O became pricey.
A '69 RoadRunner.
Plymouth's RoadRunner was a
smashing success,
since it made musclecar performance affordable.
Pontiac's other musclecar was the Firebird Trans-Am.
The Firebird was Pontiac's version of the Chevrolet Camaro.
Both the Camaro and Firebird could be good, but Pontiac's Trans-Am seemed better.
My neighbor up the street once had a Trans-Am. He still tells me about it, comparing it favorably to his Corvette.
A Pontiac Trans-Am is a
desirable
car. And to think, prior to 1955 they were turkeys.
This car has the
gigantic
455 cubic-inch Super-Duty Pontiac engine, which to me is too much weight on the car's front-end.
A 455 Trans-Am would be just about
unbeatable
in a straight line, assuming you could get the rear-tires to hook up.
Throw a curve at it, and a BMW 2002 would leave it in the weeds.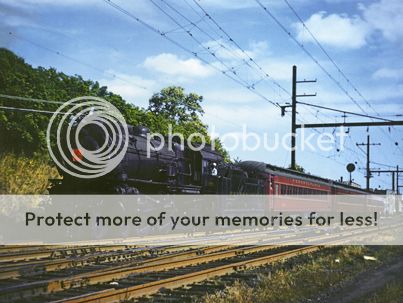 A great passenger locomotive downgraded.

(Photo by Fred Kern.)
—The October 2014 entry in my
All-Pennsy color calendar
is what the Pennsy E-6 Atlantic (4-4-2) gravitated to as it aged.
The E-6 Atlantic was Pennsy's attempt to build a better passenger-locomotive without more driving-wheels. That is, an Atlantic (4-4-2) instead of Pacific (4-6-2).
The E-6 was a reflection of Pennsy's locomotive philosophy at that time, the philosophy of Alfred W. Gibbs. Pennsy was building its own steam-locomotives.
Alfred W. Gibbs was Pennsy's Chief Mechanical Engineer at that time.
Gibbs thought he could build a better passenger locomotive without adding driving-wheels, an Atlantic instead of a Pacific.
About the turn-of-the-century most railroads were using Atlantics. But they were
teakettles,
much like the 4-4-0 Americans they were using from about 1860 through the end of the century. Pennsy had an E-2 Atlantic.
Gibbs thought he could make a
hairy-chested
Atlantic work; whither the E-6.
The E-6 is a big boiler on Atlantic running-gear, not a teakettle.
The E-6 worked for a while, until train-weights exceeded what an E-6 could pull.
E-6s were originally assigned to pull passenger-trains over what has become the
Northeast Corridor
. At that time, Pennsy's line only went to New York City, and wasn't electrified.
The line is now Amtrak, is electrified, and goes to Boston.
The E-6 was replaced by Pennsy's famous
K-4 Pacific
, really only the lighter K-2 Pacific improved.
Even the K-4 became unable to cope with increasing train-weights, but Pennsy didn't develop a 4-8-4 in the '30s like other railroads.
It was pouring capital into electrification, and could afford doubleheading or tripling its passenger-trains; two or three K-4s — that's multiple crews.
The E-6 Atlantic fell to light-weight local and commuter-duty, which is what we see here; three coaches — a commuter-train on Pennsy's Norristown branch.
The picture was taken in 1953, when no doubt photographer Kern was shooting anything-and-everything with 35 mm color-slide film — probably Kodachrome.
Kern has certainly had plenty of photos in this calendar.
But I end up wishing his camera was like my digital Nikon D7000, so he could render a better photograph.
Color photography was in its infancy back then. I tried to lighten that E-6 with my Photoshop, but
it's lost.
In fact, the whole train is too dark.
Lighten too much and it looks
weird.
This calendar-picture is lightened a little.
I've had this problem with other photos in the All-Pennsy Color Calendar.
The fact it's a 35mm slide also doesn't help. A 35 mm slide is a bit too small to render edge-sharpness in a big calendar-picture.
Pictures taken years ago don't render as well as they do now.
But that red keystone number-plate looks
pretty good.
It's what I was always looking for. It signified a Pennsy locomotive, and Pennsy's locomotives looked
fabulous.
Only one E-6 is left, #460, at
Railroad Museum of Pennsylvania
near Strasburg, PA. It's being restored for display.
#460 is the locomotive that beat the airplanes getting movie-footage of Lindbergh's return to Washington, D.C. up to New York City theaters.
The train had a darkroom in a baggage-car. The airplanes got there first, but their film still had to be developed.
—In your face!

(Photo by Philip Makanna©.)
—14 giant cylinders, 1,830 cubic-inches.
A roaring monster, and this wasn't the apex of radial airplane-engine development.
That would come later with the 2,000 horsepower Pratt & Whitney R-2800-10W Double Wasp 18-cylinder radial of 2,800 cubic-inches — the engine in the
Grumman Hellcat
.
Later versions of the Double Wasp got as much as 2,800 horsepower with very high-octane fuel and water-injection.
Typical American V8 car-motors of the '60s and '70s displaced 300-to-400 cubic-inches.
I saw one of these Double-Wasps powering a pulling-tractor. It was
mind-blowing!
The Wildcat wasn't Grumman's premier aircraft-carrier fighter-plane.
Only its first.