Monthly Calendar-Report for May 2015
Back for more grain.

(Photo by BobbaLew.)
—The May 2015 entry of
my own
calendar is a westbound unit grain-train past Cassandra Railfan Overlook.
I had gone to Altoona
stealth;
my brother and Faudi weren't notified.
I went to Cassandra hoping to get something like this.
I had along my scanner, and it reported the
Corman
grain-train was active.
A Corman SD40-T2.
R.J. Corman Railroad Group owns and operates the old Pennsy branches out of Cresson. There are coal loadouts, but also an ethanol plant up in Clearfield.
Norfolk Southern brings a unit grain-train of corn to Cresson, which Corman then takes up to Clearfield.
Unloaded Corman then returns the empties to Cresson for Norfolk Southern to pick up.
Everything has to be
punctual,
lest the railroads get penalized.
I had my scanner on, and was getting reports of the empty grain-train back in Cresson.
So I stayed put,
and sure enough here comes a unit grain-train.
I thought it was the empties from Cresson, but Phil Faudi tells me it's not.
Too many engines.
Phil tells me it's probably grain empties from Baltimore.
It's a
nice
picture, but Shutterfly doesn't allow what I wanted.
The image-file from my camera includes Tracks One and Two at right.
But the image-window of Shutterfly's calendar won't include those tracks.
It's too narrow.
I was forced to crop to fit that image-window.
Three units would get the empties up The Hill, but only two are needed Cresson west.
Strangely, my brother's camera, not a
Nikon D7000
like mine, shoots a narrower image-file. It fits Shutterfly's calendar image-window.
We're both shooting 300 pixels-per-inch resolution, although my D7000 could shoot much tighter. But I think 300 ppi looks fine.
My brother had an earlier camera that shot 180 ppi that looked fine too.
To get Tracks One and Two on my calendar I have to back off my telephoto; I probably had it set at 80 mm, maximum for that lens.
PUT THE HAMMER DOWN!

(Photo by John Dziobko, Jr.)
—The May 2015 entry in my
All-Pennsy color calendar
is
GG-1
#4917 powering a northbound passenger express train out of Washington Union Terminal in Washington, D.C.
The engineman probably has his motor in the
17th notch,
as much as a GG-1 would suck off that wire.
17 notches is
overload,
the traction-motors will overheat. But you could overload 'em long enough to rocket a heavy train out of a station.
In 1959 I rode a southbound GG-1 powered passenger-train out of 30th Street Station in Philadelphia for Wilmington, DE.
26 cars,
but in minutes we were cruising at 90+.
I've said it
hundreds
of times: the GG-1 was the
BEST
railroad locomotive ever built.
I saw many, and usually every time I did they were doing 80-90 mph.
A single GG-1 could put 9,000 horsepower to the railhead. Current diesels are good for 4,400 horsepower.
My first GG-1 picture (1959).

(Photo by BobbaLew.)
The first time I saw a GG-1 up close was when I was at a summer-camp in northeastern MD in 1959. I would have been 15, and it was my first summer on the camp's staff.
It was my day-off, so I hitchhiked into Northeast, MD, where State-Route 272 crossed Pennsy on a highway overpass.
I set up on the embankment under the overpass and waited.
Suddenly, HERE IT CAME,
probably 100 mph.
YOW-ZAH!
How can a railfan resist that?
That was my first GG-1, and I saw many more after that.
In northern DE our family lived up on the piedmont above the Delaware River's flood-plain, which never flooded that I can remember.
Pennsy's New York/Washington electrified line was down on the flood-plain.
As a teenager I rode my bicycle down to the Pennsy main just about every weekend. The thrill of watching a GG-1 flash by was irresistible.
Within minutes 4917 will be bombing up what is now Amtrak's
Northeast Corridor
. 90-100 mph towards Baltimore. It's open track, flat and fast. And a GG-1 could really fly.
GG-1s also lasted
a long time.
The first GG-1s were built in 1934-35. Many were built in the early '40s.
The last GG-1 was retired in 1983. 139 were built, with input from Baldwin, General-Electric and Westinghouse. The lower-number GG-1s were regeared to pull freight.
I used to say to a fellow railfan who graduated in my high-school class — 1962 — "When the last GG-1 is retired we'll know we're getting old."
Steam-locomotives might last 30 years, diesels might last 20 years. But the GG-1 lasted 48 years; although toward the end they were downgraded, although they might be put on an express passenger-train.
They also lasted through
four
railroads, first Pennsy, then Penn-Central, then Conrail, and finally Amtrak.
The best-looking GG-1s are Pennsy. Penn-Central and Conrail look
awful,
flat-black or Conrail-blue without the stripe.
Amtrak's GG-1s looked a little better, but shouldn't be silver.
Years ago my paternal grandfather lived in an apartment overlooking the Pennsy main in northern DE. A GG-1 powered express would flash through. "Must be the
Congressional,
" he'd say with awe in his voice; the
Congressional,
being a GG-1 powered express he once rode, which blew him away.
During the middle '90s, after my stroke, my brother took me to a commuter-station in Claymont, DE, where I once took a picture in 1959.
We waited, and finally an Amtrak express flashed through, powered by an
AEM7
.
I was blown away:
"I am INDEED in the real world. Look at the arcs when the pantograph bounced off the wire.
Just like the GG-1s."
Quite a few GG-1s are left, although none are operable. They had transformers filled with PCB-based fluid, so have been drained, or filled with concrete or sand.
Many of the remaining GG-1s are falling apart, although the one at
Railroad Museum of Pennsylvania
, #4935, looks
great.
4917 was scrapped.
Homage to lakesters.

(Photo by Scott Williamson.)
—Would I wanna drive the street in this thing?
It looks nice, but not for the street.
The May 2015 entry in my
Oxman Hotrod Calendar
is a 1929 Model-A roadster on a '32 Ford frame.
It has a '38 Ford FlatHead truck-engine with aluminum heads and a dual intake manifold.
Offy heads.

(Photo by BobbaLew.)
A friend if mine, since deceased, had a 1949 Ford two-door custom sedan with FlatHead. It had Offenhauser aluminum heads. The motor alone was worth a
fortune.
To me this calendar-car is a
lakester.
Wind it up and see how fast it will go on the vast dry-lakes out in southern CA.
The hood and trunk-lid are unpainted, although the hood is louvered on its sides.
Supposedly this car pays homage to early hot-rodding: dual-purpose street-drivable but also a lakester.
Sorry, but for me to drive such a thing on the street I need a windshield.
Swathed in brake-shoe smoke.

(Photo by Otto Perry©.)
—This is how it used to be.
The May 2015 entry of my
Audio-Visual Designs black-and-white All-Pennsy Calendar
is an eastbound freight descending The Hill swathed in brake-shoe smoke.
The Hill is Pennsy's climb over Allegheny Ridge. In fact,
Horseshoe Curve
made it possible, an operable railroad without horrendously steep grades.
Allegheny Mountain was once a barrier to cross-state commerce in PA, and the railroad is still the same alignment laid out in the 1850s.
The westbound climb up the east slope of The Hill averages 1.75% (1.75 feet up for every 100 feet forward). Not very steep, but steep enough to encourage runaways.
And it's happened.
Trains run away down the east slope of Allegheny Mountain, then pile up in Altoona.
Safely descending the mountain has always been a challenge, more so than climbing.
But things are better than they were. Now the railroad continues their helper-locomotives beyond the summit, so they can help hold back a train with dynamic-braking.
With dynamic-braking the locomotive's traction-motors are switched into generators. The current generated heats giant toaster-grids atop the locomotive. Generating current promotes braking action.
The train doesn't have to burn up brake-shoes on individual cars descending.
A heavy coal-train might get two helpers up front, and four more to push.
That's
six
units to help hold back the train descending. That's six locomotives on top of the three or four that brought it to the foot of The Hill.
And a heavy coal-train is 100 or more 120-ton cars.
Dynamic-braking is a diesel-locomotive thing. I don't know as steam-locomotives had anything like dynamic-brakes, although there were systems.
When I first visited Horseshoe Curve, it was still brake-shoes on individual cars holding back the train.
Even now you can see the brakes are activated on individual cars, but they aren't burning up brake-shoes.
I also hear radio-transmissions of the lead locomotive engineer to the rear helper-crew to "grab me."
I don't think I've heard of a runaway on The Hill since 1968 — and soon the railroad was using dynamic-braking.
The locomotives pictured are
Fairbanks-Morse
"Erie-builts;" locomotives built at General-Electric's Erie locomotive plant, since Fairbanks-Morse didn't have its own plant set up yet.
General-Electric now builds its own locomotives at its Erie plant.
The locomotives pictured are "rare birds'" not many were built. Pennsy had 'em because
EMD
could not supply Pennsy's gigantic demand for diesel-locomotives.
1969 Mustang Mach 1 390.

(Photo by Peter Harholdt©.)
—The May 2015 entry in my
Motorbooks Musclecar calendar
is a 1969 Mach-1 Mustang.
When I first saw this calendar-picture, I thought the car looked familiar; like it ran before.
But it hadn't.
There have been other blue Mustangs, but not this car.
This car is also a Mach-1; I think the others were Shelby. A Mach-1 isn't Shelby. Shelby cars are Mustangs dickered by race-driver Carroll Shelby.
A Shelby GT350 Mustang.
A 1968 390 GT Mustang, a Bullitt-car clone.
Jumping in San Fran.
Probably his best were the Shelby GT350s; although there was also a GT500 with the giant 7-liter engine. The GT350 was a
fabulous
hotrod.
The "Bullitt" car was a 1968 390 Mustang. I saw the movie. Steve McQueen was slewing and jumping the car
all over
chasing crooks in San Francisco.
Who knows
if McQueen was actually driving, but he was good enough.
The car would plow and slide through intersections, and jump over hills.
A 390 in a Mustang is a lotta weight. No wonder it plowed.
The chase ends when the crooks' car, a Dodge Charger, wipes out a gas-station and explodes in flames. The Charger's occupants, unconscious, get consumed in flames.
Supposedly this calendar-car is special: one of only two 390 Mach-1s with a sunroof. The original buyer wanted it, so Old Shel accommodated.
The Bullitt-car became so famous, Ford made its new Mustang sound like the Bullitt-car
— and succeeded.
And that's with a double overhead-cam 32-valve V8, not the ancient pushrod 390.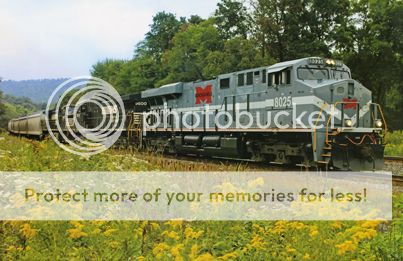 Yet again.

(Photo by Bruce Kerr.)
—8025 again.
The
Norfolk Southern Employees' Photography-Contest calendar
seems to be infatuated with Heritage-Units.
Last month had the same engine, although not in the lead.
The May 2015 entry of my
Norfolk Southern Employees' Photography-Contest calendar
is an eastbound Norfolk Southern freight with the Monongahela Heritage-Unit in the lead.
Monongahela
is one of the railroads Norfolk Southern took over. Monongahela served southwestern PA and WV.
In 2012 Norfolk Southern had 20 of its new locomotives painted in the colors of predecessor railroads. I've seen a few myself, including Pennsy, Nickel Plate, Virginian, Illinois Terminal, and Monongahela.
The Heritage-Units attract plenty of attention. Since they're regular locomotives, they get used as regular locomotives. There are websites for locating Heritage-Units, so railfans can photograph them.
I'm not that desirous myself, but if I get one that's okay. I got the Monongahela Heritage-Unit last year. I'm running it as the August entry in my calendar. As far as I'm concerned it's a better picture than this calendar-entry.
My Monongahela Heritage-Unit shot.

(Photo by BobbaLew with Phil Faudi.)
But if it had been a regular Norfolk Southern locomotive, in Norfolk Southern colors, it would have been my calendar-cover.
In the calendar-picture the train is coming around the curve at Cove, PA, on the old Pennsy cross-state main.
The railroad is following the Susquehanna River at this point, which turns east before turning south again.
8025 is a
General-Electric ES44AC
, alternating-current traction-motors. 10 of the Heritage-Units are General-Electric, 10 are
EMD
.
I'll never forget the first time my brother and I saw a Heritage-Unit, #1069, the Virginian unit, yellow and black.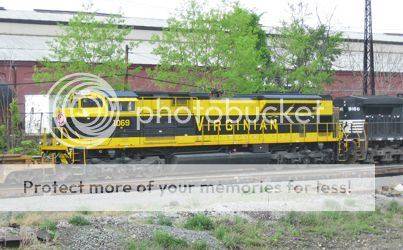 The Virginian Heritage-Unit.

(Photo by Jack Hughes.)
"Wait a minute," I said. "Virginian no longer exists. It was merged into Norfolk & Western years ago." —We had thought it was shared power.
#1069 is an EMD SD70ACe. (8025 is a General-Electric ES44AC.)
The Monongahela Heritage-Unit is kind of an add-on. Most of the Heritage-Units were built at the same time. 8025 came later, along with a few others.
A turkey.

(Photo by Philip Makanna©.)
—The April 2015 entry of my
Ghosts WWII warbirds calendar
is a
Westland Lysander
.
It's not a plane I'm familiar with, and after April's P-51D kind of a
letdown.
It looks like a
turkey;
not suited for combat.
I'll let my
WWII warbirds
site weigh in:
"The Lysander was the first British airplane stationed in France during WWII, but was soon found to be vulnerable because of its relatively slow speed. Withdrawn from frontline service, this two-seat, high-winged monoplane would soon become famous for its nocturnal flights into occupied Europe, dropping supplies and agents behind enemy lines.
The Lysander was built by Westland as an army co-operation aircraft at the request of the Royal Air Force. The first prototype was flown on June 15th, 1936, and a contract for 144 more was signed.
The Lysander began its service in June of 1938. The Lysander also saw service with France, Turkey and Ireland. Apart from dropping spies and equipment into occupied France, the Lysander also served as a target tug, and performed invaluable service during air-sea rescue operations over the English Channel.
The Lysander was also built under license in Canada, where 225 were constructed by the end of the war. There are approximately 20 surviving Lysanders today, all but one having served with the Royal Canadian Air Force."
Look at that landing-gear.
Tires with
huge
open fairings below
gigantic
struts. It's not retractable, of course.
Cessna 140.

(Photo by Baldur Sveinsson©.)
Even a lowly Cessna 140 has more grace.
The motor is an 870 horsepower Bristol radial. It would have to be powerful to move such a big heavy airplane.
The plane is a high-winger, which makes it good for reconnaissance of what's below, since their isn't a wing to block your view.
I see it has English markings, which make me think "There will always be an England."
And that bullseye would be good for target-practice.
---
A 4-4-2 Olds.
—The May entry of my
Jim LePore Musclecar calendar
is a 1971 Oldsmobile 4-4-2; four-barrel carburetor, four-speed transmission, dual exhausts.
Jim LePore ("luh-POOR") is a widower like me, and also a car-guy.
He bought a white 2010 Camaro SS, and named it after his late wife.
He drives it little, mainly to car-shows, where he shows it.
He's a hair older than me.
True-to-form,
the 4-4-2 is a GM product, due to the calendar being published by Farnsworth of Canandaigua.
Farnsworth is a car-dealer for GM cars, Chevrolets and Cadillacs.
And Randall Buick and GMC (Randall Farnsworth is the guy's name).
The calendar purports to be a musclecar calendar, but it's only GM cars.
Which is okay to my humble mind. The
best
musclecars were made by General Motors. Fords lost their tune
quickly,
and Chrysler musclecars were
big.
Car and Driver
magazine always claimed the 4-4-2 handled better than other musclecars.
Who knows
how reliable that was, since their business was selling ads.
I also think the 4-4-2 was the
best-looking
musclecar, but they're big. A 396 Chevelle passed my house a while ago, and I couldn't help noticing how long its trunk was.
Musclecars also don't handle very well. The rear-axle was cheaply suspended, and could twist due to engine-torque.
The front-suspension is A-arm, whereas now
MacPherson struts
are used — and handle better.
The car also uses uses a solid rear-axle with heavy integral differential, that can hop in a turn.
Even Mustang has come to independent rear-suspension. The solid rear axle wan be made to handle quite well, but that's NASCAR.
Labels: Monthly Calendar Report