Monthly Calendar-Report for June 2016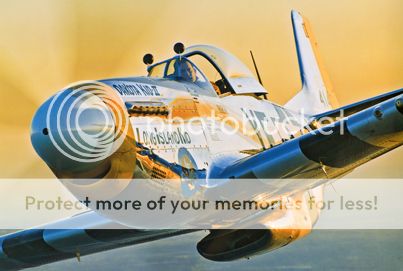 Mustang!

(Photo by Philip Makanna©.)
—The June 2016 entry of my
Ghosts WWII warbirds calendar
is a the most desired WWII warbird of all, the North-American
P-51 Mustang
.
The July issue of my Hemmings
Classic Car
magazine came the other day, and its editor, Richard Lentinello, lists all his favorite cars.
He also lists his favorite airplane and railroad locomotive.
Queen of the skies.
I can do that too.
He says the Lockheed Constellation is his favorite airplane.
I agree, and have a model of a TWA Connie atop a cabinet.
But the P-51 Mustang is right up there. I bet thousands of propeller airplane fanatics think it best.
Lentinello lists the North-American B-25 Mitchell as his favorite WWII warbird. A good choice, but compared to a Mustang?
And the design is almost 76 years old.
P-51s are raced. Grace and beauty in a killer.
With a P-51 you're only keeping one engine running as opposed to four.
And parts for that motor are probably easier to get.
I've stood in awe watching a P-51 fly aerobatics. Every American,
by law,
should see a P-51 fly — if only to understand why we beat Hitler's Luftwaffe.
The sound is
incredible.
It's on this
You-Tube link
.
I'll let my
WWII warbirds
site weigh in:
"One of the most effective, famous and beautiful fighter aircraft of WWII, the P-51 was designed to fulfill a British requirement dated April 1940.
Because of the rapidly-mounting clouds of war in Europe, the UK asked North American to design and build a new fighter in only 120 days.
The prototype was produced in record time, but did not fly until October 26th 1940.
It was found that the 1,100-horsepower Allison engine was well suited for low-altitude tactical reconnaissance, but the engine's power decreased dramatically above an altitude of 12,000 feet, making it a poor choice for air-to-air combat or interception roles.
After the RAF found the aircraft's performance lacking, they tested a new engine, the 12-cylinder Rolls-Royce Merlin. This gave much-improved performance, and led to the USAAF fitting two airframes with 1,430-horsepower Packard-built Merlin V-1650 engines. Practically overnight, the aircraft's potential began to grow.
The first Merlin-engine versions appeared in 1943 with the P-51B, of which 1,988 were built in Inglewood, CA, and the P-51C, of which 1,750 were built in Dallas, TX. Both new versions had strengthened fuselages and four wing-mounted 12.7-mm machine guns.
The Merlin-powered Mustangs were exactly what Allied bombers in Europe desperately needed, and they became famous for their long range and potent high-altitude escort capability.
The most significant variant, the P-51D, featured a bubble canopy, a modified rear fuselage, and six 12.77-mm machine guns. 7,956 were built.
After the war, the P-51 remained in service with the Strategic Air Command until 1949, and with the Air National Guard and Reserves into the 1950s. It became one of the first fighters to see combat in the Korean War.
In the last 40 years, surplus Mustangs have been modified and used extensively as civilian air racers.
But the latest trend is for private owners to restore them to almost perfect, historically-accurate condition. As public appreciation for the Mustang has grown, the monetary value of the few remaining examples has skyrocketed. War-surplus P-51s, once auctioned from storage for less than $2,000, are now usually valued at nearly a million dollars or more.
The restoration of existing airframes has become a small industry in the US, UK and Australia, and the total number of flyable examples, despite one or two accidents each year, is growing."
I've been to many air shows that flew P-51s. I always say the next air show I attend will have a Connie in it.
But I'll never forget that Mustang flying aerobatics years ago. Power dives at over 500 mph, and hammerhead stalls.
That's goin' to my grave!
It's chopped!

(Photo by Scott Williamson.)
—Proof the top can be chopped on one of the prettiest cars
of all time
.
The June 2016 entry in my
Oxman Hotrod Calendar
is a hot-rodded '40 Ford five-window coupe.
Usually I'm against top-chops on the '39-'40 five-window, but this was very tastefully done.
In fact, only by reading the caption did I find out this car's top was chopped, only two inches.
Look at the windshield, and yes, the top was chopped.
But the gorgeous curved lines of Ford's five-window were maintained.
UGH!

(Photo by Scott Williamson.)
I've seen worse:
chops of 3+ inches that butcher the lines. I can think of one, the '36 Ford five-window that was this calendar's February entry.
Chop not!
And Ford didn't have a styling section.
The '39/'40 Ford five-window is one of the
prettiest cars of all time
.
I prefer the '39. This car is a '40 Deluxe, and the '40 Standard has the '39 Deluxe grill. The '40 Standard looks better up front.
I notice this car has '56 Oldsmobile Fiesta hubcaps, flippers. They are the hubcaps hot-rodders wanted until moons became the rage.
A moon hubcap.
The car is painted purple, which to me says
trailer-queen.
I realized the other day no cars are painted purple any more. The few that were suffered early blotchiness.
This car has all the custom-car attributes: spotlights, flipper hubcaps, '49 Plymouth bumpers, and skirts.
It even has a top-chop, and it looks
great.
Pushers eastbound past Station-Inn.

(Photo by BobbaLew.)
—The first thing to say here is the train is
going away.
The locomotives are helpers. They're pushing the train toward Allegheny summit.
The June 2016 entry in
my own
calendar is an eastbound freight passing through Cresson ("KRESS-in"), PA.
It's passing Station Inn, that white building at right, a bed-and-breakfast for railfans.
I've stayed there myself. It's
trackside;
the old Pennsy main is about 150 feet across the street.
It's the old Callan House, built in 1866 by Thomas and William Callan. It was a place for Pittsburghers to escape summer heat.
Cresson is the location of the old Cresson Springs resort.
It's almost the whole way up Allegheny Mountain. The west slope is not as challenging as the east slope, but challenging enough to require helpers.
Station Inn is operated by railfan Tom Davis. Cresson residents thought Davis
nuts
to convert Callan House into a bed-and-breakfast for railfans.
"They gotta sleep somewhere," he said.
Station Inn is awash in railfan paraphernalia. Books and tee-shirts are for sale. Each suite is named after a railroad: e.g. Erie, Baltimore & Ohio, Reading ("REDD-ing;" not "REED-ing"), and Pennsylvania. All were railroads common to PA.
They even have a copy of my calendar — it's "Allegheny Crossing," their area.
On the southwest corner of the building is a tiny dot that is Station Inn's webcam. It's aimed at the tracks.
I often have it on, viewing trains through Cresson. The video gets streamed over the Internet.
The railroad is now Norfolk Southern. Pennsy is
long-gone,
but its railroad still exists.
GG-1 powered express through Elizabeth, NJ.

(Photo by Kermit Geary, Jr.©)
—Can there be an All-Pennsy Calendar without a GG-1 in it?
The June 2016 entry of my
Audio-Visual Designs black-and-white All-Pennsy Calendar
is a GG-1 powered passenger express toward New York City through Elizabeth, NJ.
Elizabeth is the location of "Elizabeth Curve." Many railfan photographs were taken on Elizabeth Curve, many with GG-1s.
(Photo by Don Wood©.)
I can think of one, It's at left, and was taken by Don Wood. It was in this calendar years ago, as were many of Wood's photographs — the basis for the first Audio-Visual Designs black-and-white All-Pennsy Calendars 50 years ago.
A GG-1 could be
incredibly powerful.
It could put
9,000
horsepower to the railhead. But not constantly. That would overheat the traction-motors.
But 9,000 horsepower could rocket a train from a station-stop.
In 1959 my railfan neighbor and I took the train from Wilmington, DE, our home, up to Philadelphia.
"Congo;" my thanks to the switcher.

(Photo by BobbaLew.)
To return we took the train pictured at left, the southbound
Congressional Limited,
powered by a GG-1.
Within minutes we were over 90 mph; 26 passenger cars.
In my humble opinion the GG-1 is the
greatest railroad locomotive
of all time
.
And I was lucky enough to see 'em; and every time I did they were doing 90-100 mph.
Even now current diesel locomotives are rated at 4,400 horsepower. To equal a GG-1 ya'd need two.
The first experimental GG-1, "Old Rivets," #4800, was so successful Pennsy allowed industrial-designer
Raymond Loewy
("LOW-eee") to marginally improve the locomotive's styling.
He didn't do much, but dickered it into one of the BEST-looking railroad locomotives
of all time
. His greatest contribution was to get staid Pennsy to ditch the riveted body-shell for a welded shell.
This looked much better, and was easier to maintain.
4896.

(Photo by BobbaLew.)
I have #4896 as my computer desktop wallpaper. 4896 is the only GG-1 I've been through, back in 1966 in Washington DC.
This is the only picture of 4896 I have; although I saw it many times.
4896 has been scrapped.
GG-1s can't be restored to operation. They had transformers filled with cancerous PCB-based fluid. The transformer downrated the 11,000-volt current obtained from the overhead wire.
Quite a few GG-1s are still around, but the transformer casings were drained and filled with concrete or sand.
This is more like it.

(Photo by Brad Brenneman.)
—The June 2016 entry of my
Norfolk Southern Employees' Photography-Contest calendar
is a westbound freight over the Little Juniata ("june-eee-AT-uh") River on Pennsy's original main line.
The photo is by Brad Brenneman, and is near Spruce Creek, PA, not far from Tyrone ("tie-ROWN;" as in "own"), where the old Pennsy turned south toward Altoona before attacking Allegheny Mountain.
Last month was
dreadful,
a train lost in shrubbery.
Spruce Creek is where Pennsy had one of its few tunnels.
Instead of following the Little Juniata around a ridge, the railroad tunneled it. There were eventually two tunnels, but one has since been abandoned.
The original Pennsy followed the Juniata across PA.
Brenneman is a Quality Assurance Supervisor at Pennsy's old Juniata Shops, now Norfolk Southern.
Pennsy became
immensely successful
merging feeders to its main stem in Pittsburgh. It became a major conduit of trade with the east-coast megalopolis.
The other major conduit was New York Central.
Pennsy is
long gone.
It merged with New York Central in 1968, to become
Penn-Central
, and that went bankrupt in two years.
The government stepped in forming
Conrail
out of the old Pennsy and Central, along with other east coast bankrupts.
Conrail was broken up and sold in 1999, with most of its ex-Central lines going to CSX, and old Pennsy lines to Norfolk Southern.
Norfolk Southern's line across southern New York is ex-Erie.
Many of the lines to Buffalo, like
Delaware, Lackawanna and Western
and
Lehigh Valley
, are
gone.
Lehigh Valley's
fabulous
Buffalo extension was completely torn up — some converted to a hiking trail.
Erie to Chicago is
gone.