Four Norfolk Southern pushers shove a heavy coal-extra into the tunnel atop Allegheny Mountain.

(Photo by BobbaLew.)
—The December 2015 entry of
my own
calendar is what my brother and I call a "cheat-shot."
It looks like four Norfolk Southern locomotives are pulling a heavy westbound out of the tunnel atop Allegheny Mountain in Gallitzin ("guh-LIT-zin;" as in "get"), PA.
But actually it's four Norfolk Southern helper locomotives pushing a heavy eastbound coal-train into the tunnel.
I wonder how many know this? I had it captioned as "pushers."
It helps to know the 6300-series are helper locomotives.
So I wonder if whoever ripped this picture out of my calendar at my veterinarian knew?
The January picture.

(Photo by Jack Hughes.)
Obviously that person
loved
this picture, but it's helpers pushing the tail end of the train that's my January picture — which was taken by my brother.
A
pot-shot,
sorta. I don't usually photograph helper locomotives. But sometimes I do.
Shut up and shoot!
—You never know what you'll get.
6303 is an SD40-E, an EMD SD-50 the railroad modified and downrated for helper service. The SD-50 was 3,500 horsepower, and somewhat overstressed. The SD40-E is 3,000 horsepower.
Norfolk Southern had been using double-sets of 3,000 horsepower
SD40-2
s as helpers on Allegheny Mountain for years. The SD40-2s were finally replaced with these SD40-Es.
It was
brutally cold
when we shot this picture. Gallitzin and its tunnel are atop Allegheny Mountain. It can be windy, and is usually 10-15 degrees colder than down in Altoona.
That's enough for it to be raining in Altoona, yet snowing up in Gallitzin.
My wife and I came to Gallitzin once years ago, and the snow was 4-5 feet deep. The main drag had been closed so it could be cleared with front-end loaders.
A replica of one of the most famous hotrods of all time.

(Photo by Scott Williamson.)
—The December 2015 entry in my
Oxman Hotrod Calendar
is a replica of one of the most famous hotrods of all time, the "Bell Auto Parts" track-T raced by Grant Lambert.
The car was featured on the cover of one of the first HotRod Magazines in 1948. I have reprints of some of those magazines, but I can't find the car. I have to go by what the calendar says.
The car is a 1925 Model-T Ford modified for racing; essentially just the T-bucket roadster body, tail-end (turtle-deck), and frame-rails.
It has the classic hot-rodded Ford FlatHead V8, souped up with triple carbs and open exhaust.
The cylinder-heads look like high-compression aluminum.
Note Quick-Change diff under turtle-deck.

(Photo by Scott Williamson.)
Note red paint in the dropped front-axle beam, and the foundation of hot-rodding.

(Photo by Scott Williamson)
The Ford FlatHead was the foundation of hot-rodding, cheap, available, and easy to soup up.
An entire industry sprang up providing high-compression aluminum cylinder-heads, radically reground camshafts, and multi-carb intake manifolds.
It's interesting to page through my 1948 HotRod reprints and see all the ads for ways to soup up the FlatHead.
The FlatHead isn't very sophisticated, a joke compared to now, but many were souped up, most by amateurs in the backyard.
The "Bell Auto Parts" racer was more professional. That front radiator shroud is hand-formed aluminum. As were the belly-pans this car also has.
This replica has a T-10 four-speed transmission, and I wonder about that. The original was built in 1946, and the T-10 wasn't available then. —The original probably had an "in-and-out" gearbox, a racing application.
The car also appears to have a Quick-Change differential. And note the red detailing in the dropped front axle-beam.
The car is
gorgeous
enough to run all the calendar-pictures. Like the back and the motor.
I subscribed to HotRod a few years, mainly my final year at high-school and my freshman year of college.
But I discovered an issue of Car & Driver Magazine at the campus laundromat, and decided it was much more interesting = it had writing that was much better.
I still subscribe to Car & Driver. I also subscribed to Road & Track, but gave that up years ago.
Car & Driver is since sometime in 1964.
Yet again, but looks pretty nice.

(Photo by Willie Brown.)
—The December 2015 entry of my
Norfolk Southern Employees' Photography-Contest calendar
is another Powhatan mine-run shot by Willie Brown.
Brown is a train-engineer, and works this line.
It's a coal-train from the mine going down to the Ohio River so the coal can be loaded onto barges.
Just about every picture Brown has had in this calendar, and there are quite a few, has been this mine-run.
It's hard to resist a snowfall. Already my brother is suggesting we go to Altoona in January, since snow pictures can be
extraordinary,
even if it's brutally cold.
With any luck we'll get what Brown got here; wind hasn't blown the snow off the trees yet.
So hillsides look like a scene from "Doctor Zhivago,"
crystalline.
Recently my brother and I were in Gallitzin, and some would-be photographers strayed into our picture. They eventually walked away.
One came back to talk to us.
"How come you guys are way back here?" he asked.
"So that hillside can be our background," we said.
"Oh yeah," said the guy, as he set up beside us.
"This is a really great photograph."
HELLO; surrounding scenery is what makes a great photograph; not just the subject.
6352 is another SD40-E rebuilt and modified by the railroad from an SD-50. At 3,500 horsepower, the SD-50 was
overstressed.
The SD40-E rebuilds are downrated to 3,000 horsepower.
The mine-run is probably downhill. It could be done with only a single unit.
Getting that heavy train back up the hill would probably take three or four 4,000 horsepower road-units, plus pushers.
IN YER FACE!

(Photo by Philip Makanna©.)
—The December 2015 entry of my
Ghosts WWII warbirds calendar
is the front-end of a
P-40 WarHawk
.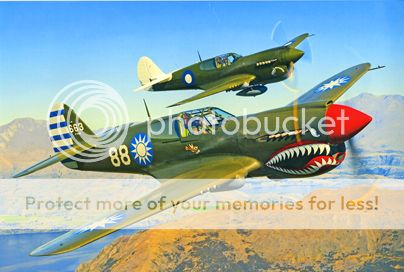 Tiger-Shark and non Tiger-Shark.

(Photo by Philip Makanna©.)
It's not painted the famous "Tiger-Shark" scheme, although it seems a variation.
The
Flying Tigers
were a volunteer force of American pilots that fought the Japanese early in the war as part of the Chinese Air Force.
The Tiger-Shark scheme was later applied to many military planes. I've even seen it applied to a lowly Piper-Cub.
Many of these later applications look
ridiculous.
But it looked
perfect
on the P-40 with its giant scoop-mouth radiator-intake.
The P-40 is powered by a water-cooled
Allison V12
. It needed a radiator-intake.
Later airplanes put that radiator someplace else, but the P-40 and P-38 had it right up front.
The plane pictured has another paint-scheme I've never seen. It uses that radiator-scoop for inspiration.
I've seen P-40s without teeth. The Tiger-shark scheme is excessive, but looks great — much better than later applications.
A Piper-Cub?
Fer cryin' out loud!
No doubt photographer Makanna had a lot of telephoto on this picture.
Yet it looks derring-do.
Makanna is probably in the open back seat of a Texan trainer.
"Now buzz me,"
Makanna radios the P-40 pilot.
WHOA! Look out!
My take is they almost collided.
Yet out of that Makanna got this dramatic picture.
Westbound on the "Broad Way."

(Photo by Robert F. Collins©.)
—I don't think this picture is that good, but it's the cover-shot for my
Audio-Visual Designs black-and-white All-Pennsy Calendar.
The December 2015 entry of this calendar is Pennsy Mountain (4-8-2) #4872, pulling a 122-car westbound past Bailey, PA along the Juniata ("June-eee-AT-uh") River on the Middle Division.
My mother pronounced it "Juanita."
This was the Pennsy
that was.
Long freights across PA serving the east-coast megalopolis.
The original Pennsy from Harrisburg to Pittsburgh became a
cash-cow.
The Allegheny barrier had been breached at Altoona, opening up the midwest and west.
New York was first with its
Erie Canal
, and later the New York Central Railroad.
Pennsylvania had Allegheny Mountain blocking trade with the nation's interior, but Pennsy breached it just west of Altoona. Part was
Horseshoe Curve
, a long circumnavigation of a valley that made climbing Allegheny Mountain possible without steep grades or switchbacks.
The state tried earlier with an inclined-plane portage railroad tied to its cross-state canal system.
But it was difficult and slow. Plus canals froze in Winter.
Pennsy was
private enterprise,
not state-sponsored.
It was mainly a response to the fact the state's combined canal and railroad was
cumbersome.
Pennsy was rewarded
mightily.
It merged feeders to its main at Pittsburgh, and also New York City, Baltimore, and Washington DC.
It became the largest and most powerful railroad on the planet.
Pennsy, of course, is
gone.
It merged in 1968 with New York Central, and New York, New Haven & Hartford, and quickly went bankrupt.
Other east-coast railroads also became bankrupt. The east-coast railroads had heavy taxes and expensive transit districts. They also had highway competition. and could not do flexible pricing.
That was a reflection to when railroad freight-transit was a monopoly.
Trucking didn't have that, and furthermore governments were funding and maintaining trucking's right-of-way, which also made it untaxable.
The Penn-Central bankruptcy precipitated
Conrail
, at first a government attempt to straighten out the east-coast railroad mess.
Conrail became successful and privatized, and considered selling to CSX Transportation. But Norfolk Southern wanted part, and got it when CSX and NS struck a deal. Conrail broke up and sold in 1999, most of its ex-New York Central lines going to CSX, and the ex-Pennsy line across PA going to Norfolk Southern.
Even now the ex-Pennsy line across PA is quite busy.
I listen to an an Altoona-area railroad-radio feed over the Internet and trains are continuous.
I bet you could shoot this same picture today. Two or three GE diesels would be on the point moving those 122 cars west toward Altoona at 40 mph or more.
And look at that first car.
It looks like a wooden hopper-car, probably good for 30-50 tons. The coal-cars in the train look like 70-tonners.
Coal-cars now carry 120 tons; and I remember when 100 tons was revolutionary.
I don't know as railroads back then would support 120 tons, particularly with jointed-rail. —The rail in that picture is jointed.
Hemi RoadRunner.

(Photo by Peter Harholdt©.)
—The December 2015 entry in my
Motorbooks Musclecar calendar
is a 1971 Hemi RoadRunner ("hem-EEE;" not "he-MEE").
The Plymouth RoadRunner, introduced in 1968, was one of the most successful marketing-ploys
of all time
:
performance on-the-cheap.
As introduced, RoadRunner wasn't maximum performance. Money was in the engine and transmission; everything else was
dirt-cheap.
RoadRunners had
bench-seats,
essentially the el-cheapo taxicab body with a performance motor and transmission.
The motor wasn't the expensive maximum motor. It was a 383 four-barrel, strong enough to skonk SmallBlock Chevys in street-races.
The ploy was to market good performance without the expensive trim and bucket-seats of the
GTX
.
In other words, you didn't have to get a GTX to skonk early G-T-Os and hot-rodded SmallBlocks.
Plus you weren't tuning for speed. All you were doing was buying the car.
By 1972 the GTX became a RoadRunner option. A RoadRunner could be fleshed out, and this RoadRunner has the Hemi mega-motor.
The RoadRunner concept was faltering, as was the whole idea of musclecars, pilloried by emission regulations and heavy gas consumption.
But you could still get performance on-the-cheap: a 383 four-barrel with four-on-the-floor.
First generation — a '69.
Personally, I prefer the early RoadRunners, the el-cheapo taxicabs. It's still a big car, but early RoadRunners looked pretty good.
I wonder if my friend at college ever had a RoadRunner?
His name was Karl Kuntz, and his last car I remember was a red '64 Plymouth two-door coupe with 383 four-speed.
It replaced his earlier 413 Chrysler 300 he beat the daylights out of.
He even got it in a ditch once, and tore off the entire exhaust system trying to back it out.
I'll never forget his flying back into our college unmuffled at 130 mph!
What a sound!
He let me drive his '64 once, and I quickly had it up to 120 on the clock.
It was fun, but it was
big.
I bet he follows NASCAR.
Take down your laundry! Call the EPA!

(Photo by John Dziobko, Jr.)
—The December 2015 entry in my
All-Pennsy color calendar
would make a steam-locomotive fireman
wince.
It's a Pennsy Mikado (2-8-2) smoking up Harrisburg's yard.
Steam-locomotives generally burned soft-coal, which could be sooty.
In northeastern PA, steam-locomotives burned
anthracite
, a rocky hard coal in the area.
Having few impurities, it burned
cleaner
than soft-coal, and had a higher carbon content. But it needed a bigger firebox grate, since it didn't have the heat-content of soft coal.
Such locomotives had "
Wooten
" fireboxes, much wider and larger than usual.
The Wootens were so large, the locomotive cab had to be put
ahead
of the firebox, a so-called "Camelback."
Central of New Jersey Camelback Atlantic (4-4-2) #592. The gigantic Wooten firebox is visible, with the engineer's cab up ahead. (This locomotive is on display in Baltimore, inoperable.)

(Photo by Mitch Goldman©.)
The Fireman was still behind the firebox, shoveling anthracite coal into it, but the engineer was up ahead.
So a soft-coal fired steam-locomotive spewed smoke and soot out the stack — sometimes even burning embers, which could start a fire.
Firemen were on notice to make their fire burn clean = a clean stack. Railfans love billowing smoke, but not railroad management.
And Maudy had a fit if she had her laundry out next to the railroad, and passing trains showered her sheets with soot.
She'd call the railroad, and the suspect fireman got called
on-the-carpet.
This was years ago before laundry-dryers. Maudy hung out her laundry to dry.
And supposedly a relative's roof caught fire next to the railroad.
I've ridden behind restored coal-burning steam-locomotives, and I had to wear swim-goggles to keep the cinders out of my eyes.
I rode behind
Nickel Plate 765
years ago, and came home looking like a coal-miner.
The Mikado in this picture is the same boiler/firebox used on Pennsy's famous
K-4 Pacific
. Pennsy did that:
standardization.
Both the K-4 and the L-1 Mikado shared the same boiler/firebox.
Pennsy had other examples of standardization. The H-8 through H-10 Consolidations (2-8-0) all use the same firebox/boiler as the
E-6 Atlantic
(4-4-2) and the
G-5 Ten-Wheeler
(4-6-0).
The
I-1 Decapods
(2-10-0) and the
K-5 Pacific
(4-6-2) have the same boiler/firebox, but only two K-5s were built. There were 598 I-1s.
Not enough weight on the drivers for the K-5; too powerful = too slippery.
The entire Altoona area would fill up with smoke. I've seen pictures.
There were so many steam-locomotives chuffing about, the area would fill up with smoke. It was between mountains that acted like a bowl.
I doubt steam-locomotives could exist in times like now. They belch too much visible smoke.
Not too long ago I chased
Nickel Plate 765
on excursions from Buffalo to Corning (NY) and back on the old Erie Railroad main.
I could tell where it was due to smoke and the smell of burning coal. And it was burning
clean.
---
Are they kidding?

—WHAT?
The December 2015 entry of my
Jim LePore muscle-car calendar
is just a garden-variety '61 Chevy Bel Air hardtop.
Well, it is the bubble-top, which looks much better than a sedan.
The most beautiful Detroit car ever made.
But in my humble opinion the best-looking bubble-tops were the '61 Pontiacs.
I was 17 when the 409 Chevy debuted.
I was
smitten.
A Detroit car-manufacturer had broken the 400 cubic-inch barrier.
The 409 was the 348 truck-engine bored, stroked, and hot-rodded .
They had to be hand-inspected, since casting-porosity made them leaky, and bored cylinder-walls were
thin.
Bill "Grumpy" Jenkins of Jenkins Competition in southeastern PA (I think it was "Grumpy" — it may have been Dave Strickler), raced a '62 at
Cecil County Drag o way
, where I hung out summer-nights in 1965.
(Does Cecil County still exist? It's got a website.)
They nicknamed him "Grumpy" because he was very untalkative, and sullen when talked to.
The actual car.
That 409 was
unbeatable
until Dodge and Plymouth Hemis started showing up. Jenkins later went on to become a premier drag-racer racing tuned SmallBlock Chevys.
But he had to buy a Hemi of his own to remain competitive at that time.
So it's impossible for me to think of this plain-jane Bel Air as a musclecar. It needs to be a 409.
---
Proof of my rule.

(Photo by Fred Kurtz.)
—My 2015
Norfolk Southern Employees' Photography-Contest calendar
arrived recently, and it has a December 2015 entry, the above picture.
I include it because it's an example of my "scenery makes the picture" dictum. The locomotive is not
in your face.
It's quite a ways back, so the scenery can be
prominent.
The locomotive is the
Central of Georgia
, Heritage-unit, CofG being one of Norfolk Southern's predecessors.
The unit is one of 20 brand-new road-diesels painted the the colors of predecessor railroads. They are in regular service.