Mahz-n-Wawdzzz
(That's Myers & Watters, but that's how the boss, a Greek, pronounced it; as in "at.")
After my freshman year at college, I needed a summer-job, supposedly to make money for college.
During the summers of 1959, 1960, and '61 (college is '62-63 to '66), I worked at a religious boys-camp in northeastern MD on Chesapeake Bay.
it was a
really neat place,
horseback-riding, swimming, and canoeing on the bay.
I was a Counselor-In-Training (CIT), 15 through 17, high-school age.
We lived in open-air screened cabins, not tents. We ate meals in a common dining-hall, not cooked outside over an open fire.
How I got that job
I wonder,
since I'm not religious.
I suspect it was my ability to sling words — what I'm doing now.
I spun a delicious story about finding redemption at that camp, a dramatic religious conversion, as it were.
This actually happened, but only lasted a week. Fear of being caught: a legacy of my parents.
I was a stablehand; also questionable, since I was no good at horseback-riding.
But the stable-guys loved me because I mucked the stalls. I also became a horsemanship teacher.
Our camp had a paradigm, that every camper should be able to ride a horse.
That being the case, horsemanship was one of the camp activities.
A camper could choose horsemanship, and hopefully get to make a trail-ride.
This rarely happened, since campers were
terrified
on a horse.
So to kill time — I had to do three days for each class — I did horsemanship training: parts of the horse, parts of the saddle, parts of the bridle, how to saddle a horse, how to bridle the horse, how to get on and off, etc.
On the last day of the class we did "ring-riding." That's when you ride a single horse around a 100-foot diameter fenced riding ring.
The riders were usually
terrified.
"Don't hold the horn, Johnny. That's what's making you bounce." —We rode western, not English.
After that we chose a few campers for a trail-ride, those not terrified.
The stable-guys loved this. It meant they didn't hafta teach horsemanship to the campers. So even though I was no good at riding horse, they loved having me around.
Also that I mucked the stalls (horse-manure, urine, hay, mud, etc.), meaning they didn't have to.
My horseback riding got better over those three summers, so by the last summer I was leading trail-rides. I was also named the Assistant Horsemanship Director.
I didn't work at the camp in 1962, the year I graduated high-school, since I had to attend summer-school at the college to prove I could do college-level work.
The camp's director was also head of the college kitchen-staff, since both the college and camp were religious institutions.
So he was lining up his camp staff from college students, and we struck a deal: I could join the college kitchen-staff if I agreed to be his camp stable-director.
(And thereby have additional income while at college.)
But my father had other ideas.
No way in a million years could that camp pay me a good income.
Counselor pay might have been $50 per week. For 10 weeks that's $500. One semester of college cost about $1,700 back then.
The idea was that
faith
would make up the difference — that was often your parents, and my father was a
skinflint.
No son of his that
refused
to kowtow to is self-proclaimed Godliness deserved any money.
That was for his missionary friends!
So much for the deal with the camp-director.
Faith was not enough;
my father worshipped the
almighty dollar.
At that time my father worked in an oil-refinery in northern DE. He was an inspector; he'd inspect the work of contractors.
At that time the refinery was having its tanks and high-steel painted by Myers & Watters, an outside painting-contractor based in Philadelphia.
Myers & Watters had a crew of about 15 at the refinery. A few were actual employees of Myers & Watters, but most were hired out of the union local in northern DE.
The crew had a local foreman named "Billy Gardiner," and his boss was "Vic," the Greek, out of Philadelphia.
My father asked Vic if he get me a summer-job.
There were hairballs, but Vic presumed it was "you scratch my back, and I'll scratch yours."
The biggest hairball was I wasn't union, but that meant they could pay me less. Yet way more than I'd make at camp.
So Vic paid off the appropriate union-officials, and hired me on.
Eight hours per day at my father's refinery for Mahz-n-Wawdzzz.
I didn't do any painting — I was a helper, a laborer.
What I did at first was sanding pipe-bottoms on the pipeline from the refinery to the docks.
Making love to the pipes.

(Photo by BobbaLew.)
I used to call it "Making love to the pipes."
They were about a foot off the ground, so I'd sit on the pipes, bending over to sand their bottoms. —In the hot sun.
Painters came along later to prime the bottoms with a roller on a stick, which my father inspected with an outside car rearview mirror screwed to a broomstick.
The painters all hated my father, who they called "Tommy" — his name was "Tom," and he could be a jerk.
What they hated was having to extinguish their cigarettes when "Tommy" showed up. Smoking wasn't allowed on the pipeline.
I did that pipe-sanding for maybe six weeks.
After that Gardiner decided to try me at sandblaster tender.
The exterior shells of large heaters were being sandblasted and then painted. The heaters would heat hydrodesulfurization feed, and burned natural gas from the refinery.
Sandblasting the heaters.

(Photo by BobbaLew.)
I looked through a peephole once, and it was the
fiery furnace-from-Hell.
No sign of Shadrach, Meshach and Abednego. But it was
Lebenty-Times-Seben.
Two Myers & Watters employees, using extension-ladders, climbed up on the heaters, and sandblasted the shells, which probably encased firebrick inside. It was hot work.
My job was to keep two three-bag sandblaster canisters full of sand.
When a blaster ran empty, I'd lift and dump three 100-bags bags of sand into a funnel atop the blaster.
Then I'd seal the canister shut, and turn it on.
Both blasters were being pressurized by a 100 cubic-feet-per-minute Schramm air-compressor.
They worried I might be unable to lift a 100-pound bag of sand, but I got so I could do it.
And every couple weeks a semi would come with 180 bags of sand. We had to unload it, and stack it near the blasters.
Mahz-n-Wawdzzz became my summer-job the
entire
time I was in college.
Gardiner
loved
having "Little Bobby" (me). I was a good worker, more dependable than most. I even got so I could work heights, although Gardiner made allowances for me.
After my sophomore year we were painting a tank-farm in south Jersey.
They were floating-roof tanks; that is, as the tank emptied, the roof, which floated atop the contents, also came down.
What we were doing was brush-blasting the inside walls of the empty tanks. The owners had the tank full at first, then partially emptied it to expose about eight feet of the tank-wall.
We had four large six-bag blasters pushed by a gigantic 650 cubic-feet-per-minute Schramm air-compressor powered by a V8 bus diesel.
I was the Operating-Engineer, much to the dismay of the local Operating-Engineer union.
I'd start it, let it warm up, then engage its four-foot clutch-lever.
IMMENSE POWAH!
Gardiner also loved that I was blaster-tender. I'd have the six-bag blasters filled and back online so quick his coworkers couldn't finish their cigarettes.
Which was illegal of course; the tanks held av-gas.
"Bobby, ya gotta slow down," they'd say.
But of course Gardiner thought it was funny.
I was inadvertently making those guys work.
After my junior year at college Myers & Watters rehired me, and agreed to my request for $2.75 per hour.
That was
all
of one semester, plus part of the second.
I remember watching my college business-office suck an entire summer's savings.
Plus I worked an extra week by not doing student-teaching — I felt it was a waste = too political.
We did the neatest job I ever did, just brush-blasting and painting a brand new golfball water-tower on the south Jersey seashore.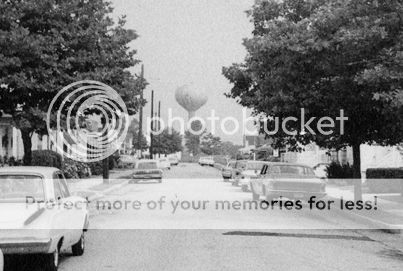 Ventnor's new golfball.

(Photo by BobbaLew.)
There were only three of us: Gardiner, and me, and a Myers & Watters employee named "Jerald."
It was in Ventnor, south of Atlantic City.
It replaced an old water-tower that was too small, and leaked profusely.
And it was only 125 feet high. We tried a 175 foot golfball in Baltimore, and it was
frightening.
We painted both the inside and the outside; inside with a ladder-rig we made, and outside with a spider.
My job was to help, and also tend a small three-bag blaster, pushed by a 100 cubic-feet-per-minute Schramm. That compressor also powered the spider, and Gardiner's spray-equipment.
Gardiner brings the spider down.

(Photo by BobbaLew.)
Gardiner sprays.

(Photo by BobbaLew.)
All the painting was spray, which meant at least half blew away in the wind outside.
And we were applying all kinds of paint, including ship's-bottom. Ventnor could afford it.
Atop the water-tower.

(Photo by BobbaLew.)
Neatest job we ever did.
It took over an hour to get to it, and over an hour to get back. Often me and Gardiner and Jerald stopped for breakfast along the way.
And the scenery was
fantastic;
pretty young teeny-boppers in skimpy bikinis headed for the beach.
When I left Gardiner and Jerald had to finish that water-tower
themselves;
I was sorely missed. But it was back to college for me.
What my father didn't realize was he was exposing me to every kind of sin.
I drank my first beer with the Mahz-n-Wawdzzz crew in a Sinclair refinery in Marcus Hook, PA.
We'd often stop for a six-pak on the way back from Ventnor.
My father was trying to offset the money drainage that would have occurred if I continued at camp while at college.
He was also trying to expose me to worldliness.
What happened was I became more
worldly,
as it were, working for Mahz-n-Wawdzzz.
And some of the neatest persons I ever met couldn't read nor write, and
smoked,
for God's sake.
(I never have.)
Mostly all hated my father so much their goal was to deflower "Little Bobby."
And they did, although my father probably never knew.
• I went to Houghton College ("HO-tin;" as in "oh," not "how" or "who") in western New York, from where I graduated with a BA in 1966. I've never regretted it, although I graduated a Ne'er-do-Well, without their blessing. Houghton is an evangelical liberal-arts college.
Labels: fond memories