Krooze-night
Scarlett. (This is four years ago; now she's gray in the muzzle.)

(Photo by Linda Hughes.)
The other morning (Monday, July 14th, 2014) I took my dog to
Petco
in nearby Canandaigua ("cannan-DAY-gwuh").
Petco is a pet-supply store. I needed a small bag of dogfood.
They allow pets in the store as long as they're leashed. I decided to take my dog instead of abandoning her in my house.
WHOA!
Yanking and pulling
every-which-way
when I let her out of my car. A silly lunging
monster;
this is the high-energy Irish-Setter I brought home.
I may be lame and old, but I can still hang on to my dog.
We went into Petco.
Yippee;
a new place to check out — lots of food and toys.
Lunging this-way-and-that; I'd get pulled down aisles.
I managed to find my dogfood, then got in line to check out.
"Awww; can I pet your dog? She's beautiful."
The store had treats on display below the checkout counter. My dog glommed a few.
Well, obviously this was a great idea. Take my silly dog some place she's never been, but I get the dog I brought home five years ago.
One of my supermarkets in Canandaigua,
Wegmans
, holds a car-krooze on Thursday nights. A fellow widower I eat with bought an SS-Camaro he shows at this show.
Being a car-guy myself. I've wanted to attend this show, but always felt like I had the
dog-problem.
I felt like in order to attend this show, I had to abandon my dog in the house.
But after Petco, I decided I should take my dog to the show.
So,
off we went,
headed for the Thursday-night Wegmans car-krooze.
I found my friend and his Camaro
right away.
We exchanged greetings, and I immediately began walking around.
Lunging and pulling:
"Oh, what a pretty dog?"
"Can I pet your dog?"
"What kind of dog is it? You don't see Irish-Setters any more."
I had along my camera, and didn't get far before I saw the
gorgeous
1962 Pontiac Bonneville convertible pictured.
A '62 Bonny — one of the best-looking cars ever.

(Photo by BobbaLew.)
I almost said something, but didn't, because it's not 1961, which I consider one of the
best-looking cars ever
.
'62 is almost as nice, but not as nice as the '61.
The only thing wrong is GM's failure to give up the knee-knocking "Wrap-Around" windshield.
Both the '61 and '62 Pontiacs still have that tiny vestige of a Wrap-Around windshield.
The Wrap-Around wasn't gone until the 1964 model-year. Other '61 and '62 GM cars have that same windshield, Chevrolet, Buick, Oldsmobile, Cadillac.
I continued my wandering, being pulled
this-way-and-that.
Ersatz 427 Cobra.

(Photo by BobbaLew.)
"Is it an actual 427 Cobra?" I asked the owner of the car pictured.
"It's not. I had to pull out the original 427, then install a new motor. It's 402 cubic-inches. But the car-body is 427 Cobra."
"Looks like a 427,"
I exclaimed, snapping a picture.
Next I came across the white '57 Chevy Bel Air two-door hardtop pictured, an
excellent
example of perhaps the most collectible classic-car, the '57 Chevy.
The two-door hardtop.

(Photo by BobbaLew.)
The four-door hardtop.

(Photo by BobbaLew.)
I saw at least three '57 Chevys at this show, none of which were convertibles, perhaps
the most collectible classic-car of all
.
Not many Tri-Chevys were in attendance; '55, '56 and '57.
I didn't see any '55s, and I prefer the '55s.
I saw only one '56, a two-door sedan (a "post"), and it was leaving, although it sounded
strong.
Hardtops are no longer made. They lack the vertical door-post up to the roof like a sedan. The front and rear side-windows of a hardtop interlace just like a convertible; which is where the name comes from: "hardtop convertible."
That hardtop doesn't retract, of course. Only Ford did that for a few years; '57 through '59. It was
overly complicated,
and its top was short.
A hardtop has no roof stiffness. Flip a hardtop and its roof will crush. Safety-mavens in the guvamint decided roof-stiffness was needed so a car could roll without killing its occupants.
The windshield might shatter, and other glass, but a car can end up on its roof without it crushing.
Okay, but losing the hardtop was a
loss.
It looked really
great,
especially if all the windows were cranked down.
The four-door hardtop was an
engineering nightmare.
The heavy rear door was hung off a post that didn't go all the way up to the roof. You had to engineer chassis-stiffness that didn't sag everything at that door-post. Otherwise the rear door wouldn't shut, and/or the side-windows wouldn't properly interlace and seal.
They managed to pull it off.
I've seen many four-door hardtops, but never a one where the glass and door didn't line up.
Maybe there was a tiny bit of sagging, enough to throw the rear doors out of alignment,
but it was minimal.
I then came across what to me is "Best-of-Show," the red '57 Thunderbird pictured.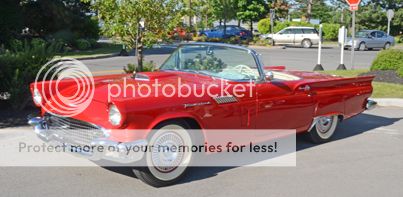 Best-in-Show.

(Photo by BobbaLew.)
I always liked the early two-seat Thunderbirds, especially the '57. And that's despite its canted tailfins which look okay on a Thunderbird, but
ridiculous
on full-size sedans. —Think N.Y. taxi!
'Birds weren't as interesting as the early 'Vettes, which lacked the style the T-birds had.
And the 'Birds, though unsophisticated with a boat-anchor motor — compared to Chevy's SmallBlock — were
steel,
not fiberglass.
Wandering complete, I then sat down next to my friend's Camaro.
But I soon got up to visit a nearby Wegmans concession selling hotdogs, hamburgers, and soda-pop.
"Any chance I can get water for my dog?" I asked.
They proffered a bottle of bottled-water and a plastic drink-glass.
SLURP-SLURP-SLURP-SLURP;
but she then knocked it over, spilling everything.
Later I went back for a hamburger, that night's dinner.
It wasn't easy to eat that hamburger with my dog continually trying to snag it.
I saved her a small piece;
CHOMP-CHOMP-CHOMP-CHOMP!
I then continued wandering.
I came across a 1964 Corvair identifed as a Yenko Stinger.
I don't know as there were any 1964 Yenko Stingers; Wikipedia is telling me the first Yenko Stingers were the second-generation Corvairs, actually 1966.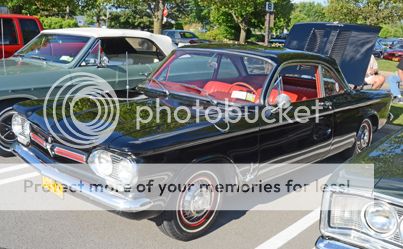 A '64 Corvair Monza coupe.

(Photo by BobbaLew.)
Corvairs always interest me, since I had one myself.
They were General Motors' most Porsche-like ("POOR-sha") car, unique enough for opportunist Ralph Nader to make a life as a crusader against corporate evil.
The Yenko Stinger was a special version of the Corvair tuned by Don Yenko.
The motor was
souped up,
and handling supposedly improved.
But that was 1966; the car pictured (1964) may not be a "Yenko Stinger."
My Corvair
was stock;
not even a four-speed floor-shift — it was PowerGlide.
It was my first legitimate car; not my first car, which was a Triumph TR-3 totally unsuited for transportation.
My Corvair was the first car I could drive in rainy or Winter weather.
My father purchased it
used
for $600 by cosigning the loan.
But I couldn't pay it,
which I never heard the end of despite later forking over hundreds of dollars for my younger siblings' college educations.
The Corvair pictured looks like
my
car, which was also a black Monza coupe.
But it's a '64; mine was a '61.
Other Corvairs were also at the show, including second-generation Corvairs, which I prefer.
Too bad
GM had to give up on the Corvair. It was Nader, but mainly Ford's Mustang, which is really just a reconfigured Ford Falcon.
There weren't many hotrods, but there were a few.
A-bone.

(Photo by BobbaLew.)
T-cup.

(Photo by BobbaLew.)
One was a pretty red five-window coupe made into a hotrod, and there was a T-cup hotrod,
all-engine,
and not much else.
A five-window coupe has the fourth and fifth windows behind the door-posts. A T-cup is the tiny Model-T roadster body, which looks like a cup. T-cup hotrods are generally hardly anything.
Hot-rodders call the Model-A "A-bone;" Model-Ts "T-bone."
I also came across the
insanity
pictured, a tiny Volkswagen Beetle re-engineered as a V8 hotrod.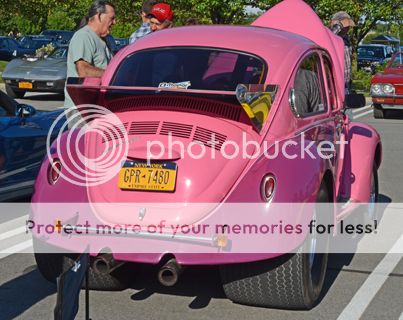 As a friend says: "Gas it and flip!"

(Photo by BobbaLew.)
I
had
to take a picture.
Look at the rear tires!
The area that used to be motor is now all tires.
And of course when I asked owner how he could drive such a thing, I got the macho-man response.
I then discovered my poor neighbor up-the-street still trying to sell his
gorgeous
25th-Anniversary Corvette, which he had on display. A "For-Sale" sign was in its windshield.
"How much do you want for it?" asked a callow young dreamer.
"Eleven-six," my neighbor said.
Dreamer walked away.
$11,600 is
ridiculously cheap
for what to me is a gorgeous $25,000 car.
I'd be interested myself were it a four-speed floorshift, but it's
automatic.
"So otherwise, how ya doin'?" my neighbor asked.
"Well, I haven't burned the house down yet."
My neighbor knows my wife died, and is also a car-guy like me.
My dog yanked me into a tree, nearly pulling me down into surrounding mulch.
We weren't far from the food-concession, so "How about I give your dog a hotdog?"
"Sure, she'll eat it,"
I said.
The dude took a white-hot off his grill and broke it up for my dog.
CHOMP-CHOMP-CHOMP-CHOMP!
Gone in a second.
I then headed back toward my friend's Camaro, but a lady I met earlier produced a hamburger-scrap. "Can I give it to your dog?"
CHOMP!
We then decided to leave.