100 years old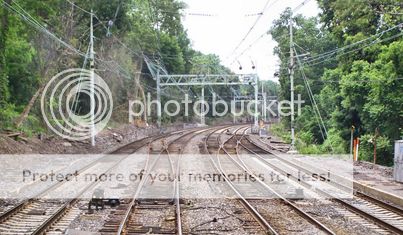 This is the 1915 installation, the main line from Philadelphia to Paoli; no towers. (An out-of-service signal gantry is in the picture.)
("pay-OLE-eee")
This catenary is not the original installation; it's what came later, and is most of PRR's electrification.
("kat-in-AIR-eee;" not "cant-in-AIR-eee")
The Pennsylvania Railroad's first mainline electrification is 100 years old.
Pennsy did earlier electrifications: the tunnels into New York City from north Jersey, and there was an experimental installation in south Jersey that preceded the tunnels.
But they were
third-rail
direct-current.
The installation from Paoli east into Philadelphia was more
serious,
although the Manhattan tunnels could be considered serious.
It was 12,500 volt 25-cycle alternating current delivered by overhead wire, same as earlier installed on New York, New Haven & Hartford, the pioneer.
And it was on Pennsy's mainline out of Philadelphia that was originally part of the state's Public Works System, a response to the Erie Canal.
Public Works, a combination canal and railroad, eventually failed. Pennsy put it out of business.
Public Works was time-consuming and cumbersome, and its canals froze in Winter.
When Public Works failed, Pennsy took over the railroad out of Philadelphia.
Suburban development grew up out along the railroad, and the railroad encouraged it.
Residents used the railroad to commute into Philadelphia.
Electrification was an attempt to improve commuting into Philadelphia.
Pennsy's original terminal in Philadelphia,
Broad Street Station
, not 30th-Street, was
stub-end.
Locomotives had to get turned around and recoupled to commuter-trains.
Electrification allowed self-powered coaches that didn't have to be turned.
Self-powered electric coaches could also accelerate better than steam-locomotives.
But electrification was
more than that.
Electric traction delivered constant torque to the drive-wheels, as opposed to piston-thrusts of side-rod steam locomotives.
Electrification would ease the climb over Allegheny Mountain, and Pennsy long considered doing it.
Pennsy never electrified west of Harrisburg, but even now electrification is considered.
It's just that dieselization is electrification,
sort of.
An on-board diesel-engine generates electricity for traction-motors.
Most railroad diesel-locomotives are diesel-electric, and deliver the same constant drive-torque electrification would produce.
Electrification without wires.
But Pennsy's first electrification was
with
wires.
Pennsy went on to electrify many of its lines east of Harrisburg, clear through 1938.
Probably the prime example was New York City to Washington D.C., now Amtrak's
Northeast Corridor
, our nation's supposed high-speed railroad.
Segments are good for 150 mph, but some segments can't exceed 40. It has tunnels in Baltimore that go back to the 1880s.
The Northeast Corridor's equipment has to be sized to fit those tunnels, plus the tunnels into Manhattan.
Pennsy's overhead-wire electrification was
alternating-current,
since AC transmitted better over distance.
Which meant the locomotives had to be alternating-current. The
GG-1
is AC, as are the MP-54 commuter-coaches.
MP-54s line up in Paoli.

(Photo by Frank Tatnall.)
The later E-44 freight-motors had to rectify the wire-current for their direct-current traction-motors.
So now Pennsy's electrification is 100 years old.
And it's still up,
although much of Pennsy's later electrifications were taken down.
Maintaining catenary is time-consuming and expensive.
The old Pennsy mainline out of Philadelphia is now Amtrak, its "Keystone Corridor" to Harrisburg. It also carries commuters, although now it's Southeastern Pennsylvania Transportation Authority (
Septa
), not a railroad.
But it's still
electrified.
Electrification of a commuter-district makes sense, as does the Northeast Corridor. Even when a line to Boston was made part of the Northeast Corridor, it was done with electrification by overhead wire.
It's the same electrification Pennsy installed in 1915.
•

Guilty as charged!

A Pennsy-man.
Labels: trains